FLEX Disaster Recovery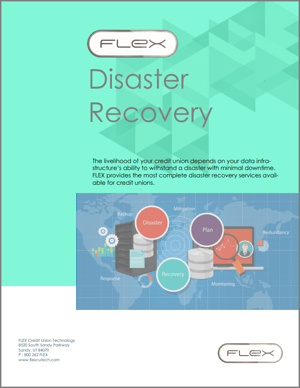 As a core processor, FLEX is in a unique position to offer the most complete disaster recovery solution available for credit unions. You will receive support and the help needed to return your credit union to continuity in the shortest time possible. FLEX delivers an off-site data storage solution that provides for redundant backups in geographically diverse locations.
Your credit union's future might depend on choosing the best disaster recovery solution for your specific needs. Through core managed disaster recovery, costly third-party programs and integration can be avoided or removed.
Download the eBook for a deeper look into disaster recovery components and FLEX Disaster Recovery Services.