A North Dakota CU's Journey Through a Core System Review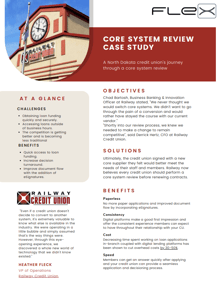 Learn how a North Dakota-based credit union navigated through a core system review to find the right technology partner.
Core system reviews can be a cloudy and undefined process that leaves many credit union executives questioning if they are on the path to finding the best system for their credit union.
In this case study you'll learn what advice Railway Credit Union has for those considering a core review, how to filter through the slick sales pitches to make sure the system is what you need, and why you should consider the culture of the core system vendors you're looking into.