A Small Connecticut Credit Union Uses Internal Efficiencies to Recover from the Recession.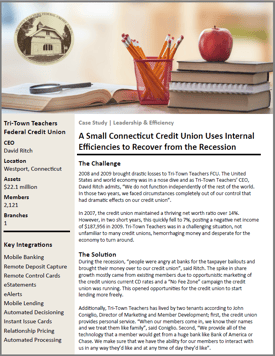 2008 and 2009 brought drastic losses to Tri-Town Teachers FCU. The United States and world economy was in a nose dive and as Tri-Town Teachers' CEO, David Ritch admits, "We do not function independently of the rest of the world. In those two years, we faced circumstances completely out of our control that had dramatic effects on our credit union".
However, Ritch and his team were able to turn a negative situation into something positive. During the recession, "people were angry at banks for the taxpayer bailouts and brought their money over to our credit union", said Ritch. The spike in share growth mostly came from existing members due to opportunistic marketing of the credit unions current CD rates and a "No Fee Zone" campaign the credit union was running. This opened opportunities for the credit union to start lending more freely.